Soundscape Products
---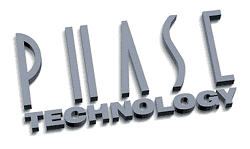 PC Series
Velocity Series
Subwoofers
Ci Series
All Terrain Series
---

V- 8 Bookshelf Speakers
Advancing the art and science of speaker design and construction.
Soundscape Price: $650/pair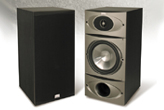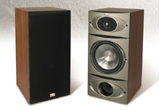 2-way Bookshelf Monitor with 7" VDT™ Vapor Deposited Titanium woofer with butyl rubber surround, and patented 1" soft dome tweeter, puts Velocity's sharp detail and room-filling sound where towers can't go.
The V-8 includes black metal grillsare available in two available cabinet finishes - warm Sun Maple and contemporary Black Rosewood laminate.
All Velocity speaker models include Phase Technology's Absolute Phase ™ Crossovers that deliver the same soundstage no matter where the listener sits. And our Low Level Linearity guarantees the treble and bass won't lose definition or proportion, even at low volume levels. You'll never again ask what they said when watching movies or listening to music - you'll hear every word no matter where you are sitting or standing!
10- Year Speaker Warranty - Amplifiers 3-Year Warranty (see warranty for details)
Specs: Frequency Response: 44 Hz - 20 kHz +/- 3 dB Sensitivity: 90 dB Impedance: 8 ohms Dimensions: 8.5" (w) x 17.5" (H) x 11.5" (D) Weight: 18 lb. each Video Shielded Finishes: Black Rosewood and Sun Maple
---
V- 8 Compact Home Theater System
Soundscape Price: Call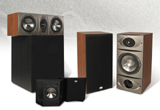 2 x V-8 (Front) 1 x V-6 (Center) 2 x V-Surround (Rear) 1 x HV-1000 (Subwoofer)
The V-8 System takes advantage of two V-8 front channel bookshelf speakers and the V-6 center channel. Including two V-Surround 2-way selectable bipolar/dipolar effects speakers, every wide-range speaker in this system offers far-reaching options for positioning. The HV-1000 10" rock-solid subwoofer produces sound levels that will fill your large entertainment room with unyielding audio performance in a highly flexible design.
---
V-6 / V6 System
V-8 / V8 System
V-10 / V10 System
V-12 / V12 System
V-Surround
HV-800
HV-1000
HV-1200



---
ORDERING ONLINE
click here!
ORDERING BY PHONE
If there is no authorized dealer in ytheir area you can order directly from Soundscape
with a 10-day, satisfaction, money-back guarantee.
US and Canada, 1-800-450-HIFI (1-800-450-4434)
Outside the US and Canada, (707) 578-4434
Monday - Friday 11:00 AM - 7:00 PM (PST)
Fax: (707) 578-4436
---
Last Update: April 9, 2009
---


1044 Fourth Street, Santa Rosa, CA 95404
Phone/Fax 707-578-4434 or 800-450-HIFI
marcs@sonic.net